Up N Over is a track in Destruction Derby Raw.
Up N Over is set in a somewhat mountainous place with pine trees, and one section of it seems to be a purpose-built raceway. There are two variants, of which the long version comes first in appearance. There are several crossroads and one huge jump (much bigger than the jumps at Axehead). It is 4 laps and in Wreckin' Racing mode, 1200 points are required.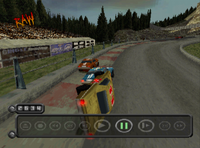 The second Up N Over, or the shorter version, lacks the jump and its long slope road. It has 5 laps and requires 1400 points.
The long version of Up N Over is one of the longest tracks in the game (up there with Jagged Edge and Avalanche).
There are billboards for the fictional 'Gingle Tuning' and 'Jones Batchworks'.
Community content is available under
CC-BY-SA
unless otherwise noted.