The Undertaker is a competitor in Destruction Derby and Destruction Derby 2. In both games, his car number is #77.
Destruction DerbyEdit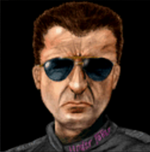 Undertaker drives an all-black car with the race number #77. He wears sunglasses.
He's good in all modes, but it is not as noticeable as drivers such as Psycho or The Skum. His taunt when the player scores points is something like "He's God!".
His name is '"Undertaker", though his pit compound lorry also has the "The" prefix.
Destruction Derby 2Edit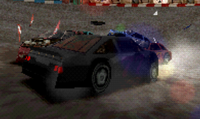 The Undertaker is back with the same car and same car number. His name now has a 'The' prefix. He's still a skilled opponent, but you will be more annoyed by even better competitors like Suicide Squad or Psycho.
His physical appearance has not changed, but you can now see his eyes through his sunglasses.
He is the tallest driver in the second game.
A #77 car in a light-blue colour appears on the Destruction Derby 2 cover art.
Community content is available under
CC-BY-SA
unless otherwise noted.