The Trashman is a competitor in Destruction Derby and Destruction Derby 2. His car number is #07.
Destruction DerbyEdit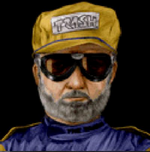 Trashman is an average competitor in wrecking modes, and above average in Stock Car Racing. He drives a purple and orange car. He starts at Division 5.
He is notably the only opponent the player faces in a Duel race against the CPU.
Destruction Derby 2Edit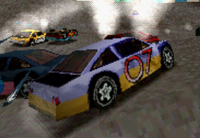 He returned to the sequel, with his name now bearing the 'The' prefix to make it The Trashman. It is now revealed that he is quite fat, as shown on his art.
He usually stands in Division 2 in Wrecking Racing but performs poorly in Stock Car.
Community content is available under
CC-BY-SA
unless otherwise noted.