The Skum is a competitor in Destruction Derby and Destruction Derby 2.
In both these games, he is the best driver in Stock Car Racing events.
Destruction DerbyEdit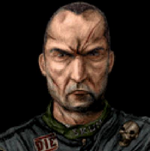 The Skum drives the car #13. His car is black with a khaki stripe. He's an average racer in Wreckin' Racing and Destruction Derby mode, but he is the strongest opponent in Stock Car Racing.
He wears a black suit and has scars on his face. He also has very short hair. He taunts "Stay out of my way!" in a Brummie accent when points are scored out of his car.
Destruction Derby 2Edit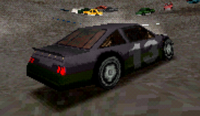 In this game, The Skum is still the best driver in Stock Car. He drives the same car as in the prequel.
He wears an vest, which lets you see his immensly large muscles (which are, by the way, totally disproportionate). His hair is slightly longer than in Destruction Derby.
Community content is available under
CC-BY-SA
unless otherwise noted.