The Optician is a competitor in Destruction Derby and Destruction Derby 2. His car number is #47.
Destruction DerbyEdit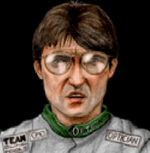 As his name suggests, he is an optician and wears goggles, and wears a top that looks like a racing tracksuit. He drives a dark-green and white car.
Destruction Derby 2Edit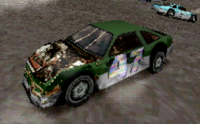 The Optician still has goggles and still drives that dark-green and white car with the same race number, and still appears to be a nerd. While he is an okay racer, his wrecking capabilities are very poor.
He is one of 4 drivers who don't appear in the MS-DOS version of Destruction Derby.
Community content is available under
CC-BY-SA
unless otherwise noted.