The Idol is a competitor in Destruction Derby.
Destruction DerbyEdit
The Idol drives a pink and white car, number #23. She has big earrings, a ribbon in her hair and some make-up. You won't notice her a lot as she doesn't have any exceptional skills. On her pit compound lorry she has long hair and a microphone, portraying her further as an 'idol'.
When points are scored out of her car, she screams.
She is one of 4 drivers who don't appear in the MS-DOS version of the game.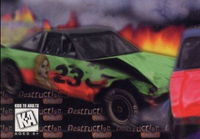 Despite not being in it, her car is featured on the front cover and manual of the MS-DOS version with a green/red paintjob.
Her car number was used again by GT Luvva in Destruction Derby Raw.
Community content is available under
CC-BY-SA
unless otherwise noted.