The General is a competitor in both Destruction Derby and Destruction Derby 2.
Destruction DerbyEdit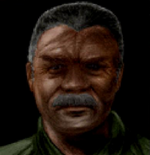 The General is behind the wheel of car #50, which is all khaki (which makes sense, considering he's a military general).
He has grey hair, a grey moustache and wrinkles. When points are scored from him, his voice clip says "You'll regret that!".
Destruction Derby 2Edit
He retains the same physical appearance (even though the moustache seems to be slightly larger) and still drives the car #50 (which is now dark-green). Compared to the first game, The General is now a very highly capable driver, and he is another fabulous racer in Stock Car mode. He is not as good in Wrecking Racing and he does badly in Destruction Derby.
Community content is available under
CC-BY-SA
unless otherwise noted.