Suicide Squad is a competitor in Destruction Derby and Destruction Derby 2.
Destruction DerbyEdit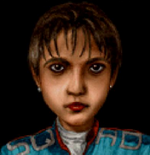 Suicide Squad drives the car #82 which has a cyan paintjob and a red stripe. She is remarkably skilled in Wreckin' Racing and in Destruction Derby, but she doesn't drive very well in Stock Car Racing.
She has brown, short hair, earrings and a cyan and red suit. Winning points from her car makes her say something among the lines of "Beginner's luck, man!".
Destruction Derby 2Edit

Suicide Squad's car hasn't changed from the previous game and she still poses a threat in Wrecking Racing and Destruction Derby mode, but once again fails to be a good Stock Car racer.
She no longer has her earrings, and her hair is even shorter, but wears the same suit as in the original DD.
The name 'Suicide Squad' is very likely a nod to UK banger racing culture, particularly the famous Bexley Suicide Squad.
Community content is available under
CC-BY-SA
unless otherwise noted.