Rivit

Official DD2 art
Featured in
Destruction Derby 2
Number
#99
Age
24
Length
5' 7" (1.68 m)
Nationality
British
Gender
Male
Rivit is a competitor in Destruction Derby 2.
Destruction Derby 2Edit
Rivit is one of the four new opponents introduced in DD2. His car has a lavender paintjob and a purple stripe. His car number is #99, which was used by The Doctor in Destruction Derby.
Rivit has a purple mohawk and a purple jacket. He looks very much like a 1990s raver.
He is strong in Wrecking Racing and Destruction Derby, but pretty poor in Stock Car.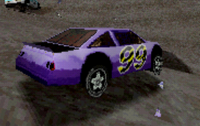 In-game, his name is Rivit, but the instruction manual actually calls him "Rivet".
If you drive very close to his car, you can notice that some small texture glitches can appear on one of his sides. You will most easily notice it in a derby event.
Community content is available under
CC-BY-SA
unless otherwise noted.