Pyromaniac is a competitor in Destruction Derby and Destruction Derby 2. Her car number is #64.
Destruction DerbyEdit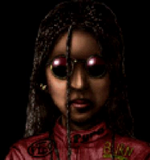 Pyromaniac wears sunglasses and has dreadlocks. She drives a red car, and starts at Division 3.
She taunts "Ha, ha, ha, ha, ha!" when scoring points out of her.
Destruction Derby 2Edit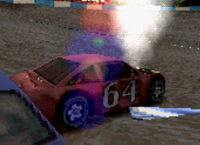 She is shown with sunglasses and a dress, and now drives a pink car with a red stripe, but still has #64 as her car number. She is highly skilled in Stock Car, pretty bad in Wrecking Racing, and very bad in Destruction Derby.
She is named after pyromania, a control disorder about starting fires.
In the first DD, she is one of 4 drivers who are not featured in the MS-DOS version.
Her DD2 CGI art is the only image in the game's drivers with colour.
Community content is available under
CC-BY-SA
unless otherwise noted.