Lady Cassandra is a playable character in Destruction Derby Arenas.
Description
Edit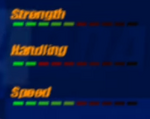 She drives a 1968 Ford Mustang, and her number is #99. Cassandra is the champion of Harbour.
[Official plot description]
Lady Cassandra is beautiful, rich, spoilt and in possession of an overwhelming drive to win. Although she may not be recognised for her talent, she is one to survive many dangerous races, almost out of luck. She is actually very cold hearted and selfish. Taught by the best racers money can by buy, Cassandra aims to win, while putting her cheating-ex, Danni Brennan, into traction as a bonus.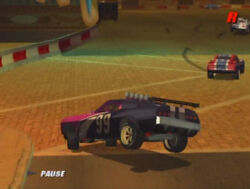 A spoilt English heiress, Lady Cassandra acquired a taste for motor racing when her ex-husband, the Texan owner of a multi-national fuel conglomerate, took to sponsoring teams in series like Petit Le Mans, ALMS, and CART. When she divorced the millionaire, she inherited half his fortune – and his passion for racing. Having met her next boyfriend, the young German Brennan, whilst visiting the ALMS paddock, she indulged his desire to race in the ultra dangerous DD series by establishing her own team. Their partnership lasted less than a month, catching him cheating on her, and she quickly sacked him.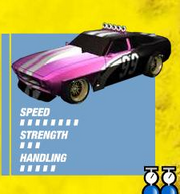 His replacement lasted one race before being killed by Jared Crane. Thus, with Danni moving onto another drive with the rival Black Light Racing team, she decided she was going to finish the German's career the hard way – by crippling him. To this end, she now races her own car, and takes very expensive lessons from the cream of the world's racers. Dismissed by most of the paddock as a rich bitch playing at the races, she's determined to not only crucify Danni, but prove her worth. Whilst not a spectacular talent, she is a survivor – and often reaches the end of races first by virtue of being the one involved in the least crashes… She's also a consummate gossip – and Danni's burgeoning reputation as the paddock Lothario has taken a real battering from Cassandra's viscous rumours… Her new partner is the sophisticated gentleman racer, and new team-mate, Sebastien Noire – another privileged soul trying to prove his worth in the real world. Just how long this latest love affair lasts is anybody's guess...
This section contains spoilers!
Winning the DD championship, against expectation, was a great victory for Cassandra as she finally silenced her critics. However, two seasons later, she was lucky enough to escape with her life from a collision with Danni Brennan, which left the young German scarred and mutilated. Not wishing to push her luck any further, and perhaps gaining some sense of satisfaction from finally destroying Brennan's good looks, she retired instantly from racing, and moved back to England, leaving her life in DD behind- including her lover Sebastian Noire, with whom she'd bored.
Community content is available under
CC-BY-SA
unless otherwise noted.