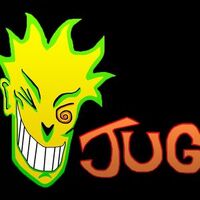 Jug was an English thrash metal band from Sunderland, UK, who composed most of the soundtrack of Destruction Derby 2. The band's vocalist, Richard Beston, also worked as one of the game's artists.[1]
Jug released an EP called Direction in 1996[2] with 7 songs. These songs were used in Destruction Derby 2, albeit without the vocals, together with a bunch of other tracks specially for the game. In 2005 the band created a MySpace profile, which is still accessible today as of 2018 and allows the playing of their songs.[3]
The band split up shortly after being offered an indie record label, according to their MySpace.[4] Jug's guitarist Andrew Lewins was later a member of a band called Nothing Gained, who released their debut album Nascent in 2008.[1][5]
Jug's "Slapshot" and "Dead Happy" tracks from the Direction EP were also used in Psygnosis's 1997 game Monster Trucks/Thunder Truck Rally as the ending theme and intro theme respectively.
Richard "Bez" Beston - Vocals
Dean Liddle - Drums
Andrew "Andy" Lewis - Guitars
David "Ed" Eden - Bass*
Craig "Boz" McKendrick - Bass*
*Uncredited in DD2
References
Edit
↑ 1.0 1.1 Jug - Last.fm (14 February 2009).
↑ Jug on MySpace (25 December 2008).
↑ Nothing Gained on MySpace (5 August 2009).
Community content is available under
CC-BY-SA
unless otherwise noted.