Dragonfly is a track in Destruction Derby Raw. The figure of eight version of Dragonfly is the very first track in the game.
Set near a contruction area, Dragonfly is the shape of a half-dragonfly or of an figure of eight. The variant of Dragonfly has the shape of a full dragonfly or of two figure-of-eights. Both have a large jump at the Start-Finish straight. In the full Dragonfly, you choose to go either into the left or right road, and at the next crossroad you have to switch directions to the other road.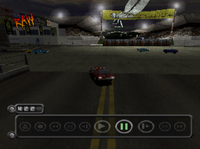 In Wreckin' Racing mode, you have to score 1000 points to win the half Dragonfly, so you could just use your turbo boost and be first to complete this stage. To complete the full Dragonfly, you must score 1800 points. It's a pretty long track so there are only 4 laps to complete.
It is very easy to gain points and win in this track, and is a perfect course for beginners. This is likely because the road is very wide in most places. Just remember that cars taking the big jump and colliding with competitors is hurtful for the victim and point-rewarding for the executioner.
There's an advertising banner with the Studio 33 logo and the text 'It feels so good!'
Community content is available under
CC-BY-SA
unless otherwise noted.