Crunch Bunch

Crunch Bunch's picture
Featured in
Destruction Derby
Number
#22
Gender
Male
Crunch Bunch is a competitor in Destruction Derby. He drives car number #22.
Destruction DerbyEdit
He has black hair and small eyes with an oriental appearance, and drives a white car with a purple stripe. He is quite skilled in every mode and mostly finishes high.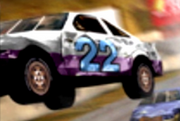 Crunch Bunch is one of the four drivers of the first game to have been replaced in the sequel, Destruction Derby 2. Interestingly his car clearly appears on the DD2 rolling demo screen.
His car appears on the cover art of Destruction Derby, but is in cyan colour instead.
His car has a similar paintjob as Amateur in the second game.
His 22 car number was used by Speedfreak in Destruction Derby Raw.
Community content is available under
CC-BY-SA
unless otherwise noted.