For the bowl in DD2, see The Colosseum.
Colosseum is a bowl/arena in Destruction Derby Arenas. It is the first in the game, in order of appearance.
Colosseum is the final event in Championship Round 1.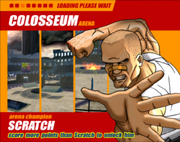 Tips and tricks
[
]
Look for 'The Pit' in the dead center of the arena. It's safe to drive over when the protective plate is in place, but watch out for jets of air - you've got about 2 seconds to get out of there when they start up. When The Pit is open, flames lick around the edges and players can fall down.