B-Movie is a bowl/arena in Destruction Derby Arenas.
It is the very last event of Round 4 in the Championship, after which the Championship is completed, if won.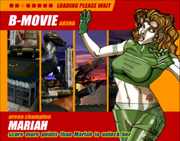 Tips and tricks
[
]
In this bowl, giant monsters slug it out far above your head, so if you want to protect your car's paintwork, avoid the platform or you will end up with more than just a singed chassis.